We have what it takes and are committed to provide an outstanding approach to our customers.
135 years of tradition
Experience and reliability
German quality
Unparalleled customer approach

GAZ is the only manufacturer of Ni-Cd batteries in Zwickau, Germany.
For more than 135 years on the market, GAZ has proven to be among the first choice in Ni-Cd energy storage thanks to an undisputed quality of our batteries – a quality for which German brands are recognized worldwide. Supplemented by an unprecedented customer approach, ongoing extensive investments into our production technologies and further development, GAZ battery is a reliable backbone of electrical networks with more than 1,000 new and satisfied returning customers.
GAZ Ni-Cd batteries - your first choice:
GAZ Ni-Cd batteries are cost effective
GAZ Ni-Cd batteries are the strategic choice. With 20+ years of battery lifetime, minimum maintenance requirements and an unprecedented quality, the total costs of investment are simply lower than lead-acid.
GAZ Ni-Cd batteries are exceptionally reliable
Quality checkpoints at every crucial production step, no workarounds compromising quality, expert workers who indeed do care and constant process improvements. The core of GAZ philosophy which helped create exceptionally reliable Ni-Cd batteries
GAZ Ni-Cd batteries are robust
Abuse-proof single-cell design, tightly fixed electrode stack, strong internal connections and improved construction of critical parts, GAZ batteries have complete protection to sustain tough handling conditions.
GAZ Ni-Cd batteries are safe to recycle
GAZ Ni-Cd batteries can be recycled and reused in secondary application. With "zero waste" management, GAZ is actively protecting our environment. Contact us if you need help to recycle.
GAZ Ni-Cd batteries in widest temperature range
Exceptional lifetime at high temperatures, no electrolyte freezing below 0 °C, Ni-Cd features the widest operational temperature range of – 40 °C to + 50 °C and 20+ years in constant operation. Truly standing out against lead-acid or lithium.
GAZ Ni-Cd batteries with lower maintenance requirements
Designed with large electrolyte reserve, while preventing electrode plate corrosion and electrolyte stratification, Ni-Cd is the best solution for applications requiring expected reliability with the minimum of routine maintenance.

GAZ Ni-Cd batteries offer a longest shelf life
When not in use, and based on a customer feedback, GAZ offer a longest shelf life. This is found to be a significant benefit over other brands or technologies. Nothing more important than a comfort knowing that a spare battery is there to provide a full replacement capacity.
GAZ Ni-Cd batteries will last for a long time
Designed to exceed IEEE requirements, manufactured under strict control with state-of-the-art technology, GAZ Ni-Cd batteries will last for a long time. They are made to stand out to the well-known label of "German quality".
We have very strong reasons to focus on Ni-Cd: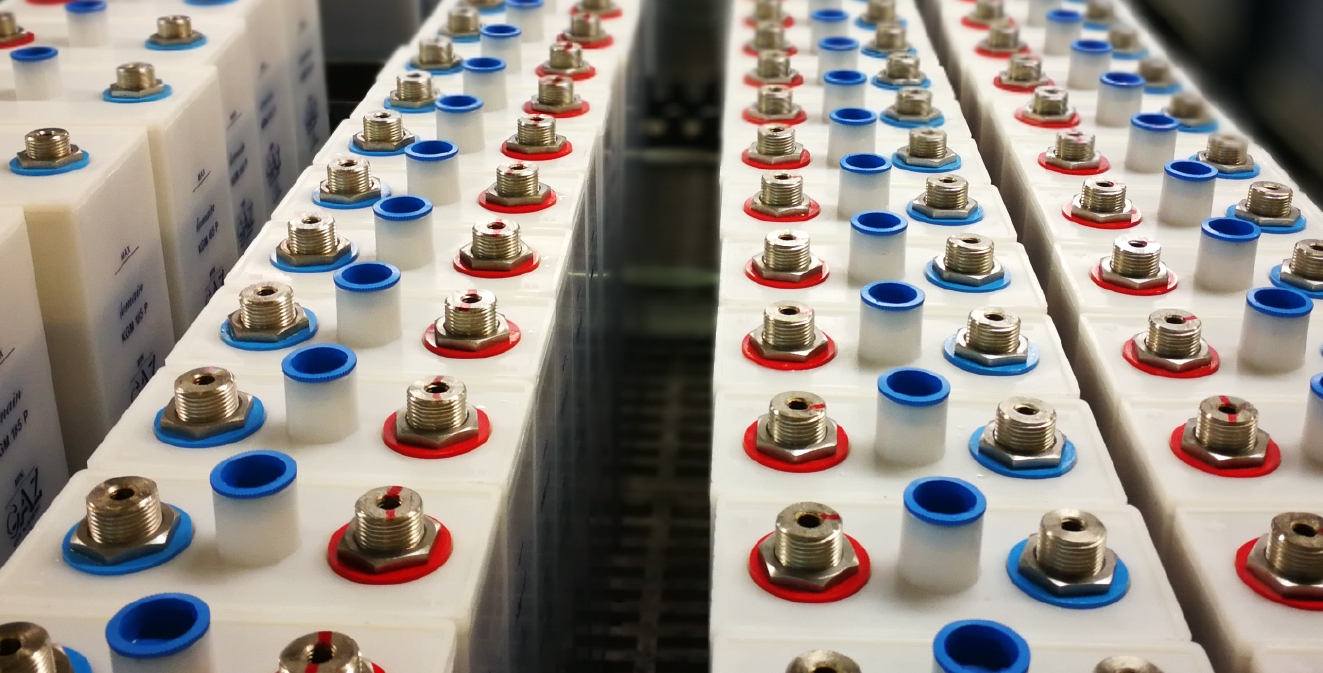 Ni-Cd operates even in relentless temperatures - in Siberian tundra or in Sahara Desert, Ni-Cd will perform better.


Ni-Cd is the most reliable battery – always ready, for decades of constant operation.


Ni-Cd is perfect for most applications – from boats through trains to airplanes, from nuclear plants to industrial UPS systems.


Ni-Cd is suited for the use in every sector – industrial, commercial, governmental and military.


Ni-Cd has exceptionally long operational lifetime, low maintenance, permanent mechanical integrity, high resistance to mechanical abuse, low life-cycle cost. It is simple - all thanks to the principles of alkaline chemistry.


Ni-Cd can be safely recycled – 99 % of the Ni-Cd battery is recycled.


Ni-Cd means no risk of sudden failure - suitable for continuous operation with a peace of mind.


Ni-Cd has low life-cycle cost - the total cost of ownership is excellent for Ni-Cd.